This is a Sponsored post written by me on behalf of
Duck Brand®
for
SocialSpark
. All opinions are 100% mine.
Well then.
I had a really witty post composed for you
on all of the awesomeness that is Holiday Duck Tape®

That cyber goodness was not to be.
So instead, I bring you eyecandy.
Some many moons ago, I was in Fred Myer with my better half
gawking at the awesomeness that was colored Duck® brand tape.
Last year, I was buying my very first roll of patterned Duck Tape®
This year, I was beyond delighted when I caught site of the wonderfulness
That is holiday
Duck Tape®
There are just so many projects you can do with this stuff.
I might actually have to do a few nursery projects on budget with it.
But in the meantime, here are some absolutely lovely Holiday projects
I would totally whip together with a few rolls of awesome in my bag.
I LOVE this poinsettia.
I mean, seriously.
I buy real ones each year on Black Friday and by the time Christmas rolls around,
they are long gone.
Never mind that I have wanted some non-fabric, but also not real ones
for my outside porch for a while.

Using the red and white candy striped version
with some red thrown in,
I would totally throw down on this project
Or, since we all know that me and the sewing machine
are becoming BFFs (not)
how about these stockings?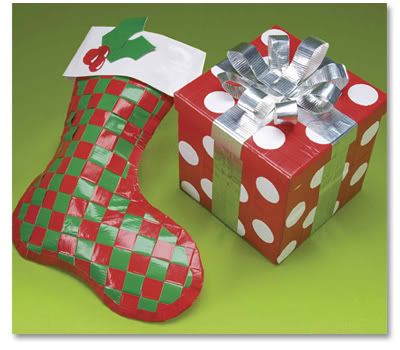 image via
Jo-Ann Fabric and Crafts
Or for the patient,
how about these amazing wreaths?
As much as I love the reindeer print,
I think the simple red and white candy stripe
is my absolute fave.

If you are totally NOT in to crafting anything else this year
(it is the 4th and I'm tapping out)
then even simple ideas for using this would be awesome.
You can use it as a decorative "ribbon loop" to hand a wreath.
You can use it in small quantities to tape up a collage of holiday cards.
You can use it to tape your tree stand to the floor and ensure it doesn't go anywhere.
Okay. Maybe not.
But of course, most obviously, you can use it to wrap that gift
that you really DON'T want someone to get in to.
Whatever you do with it, I bet it will be awesome.Have fun with Duck® Brand Holiday tape this season!